About Jian London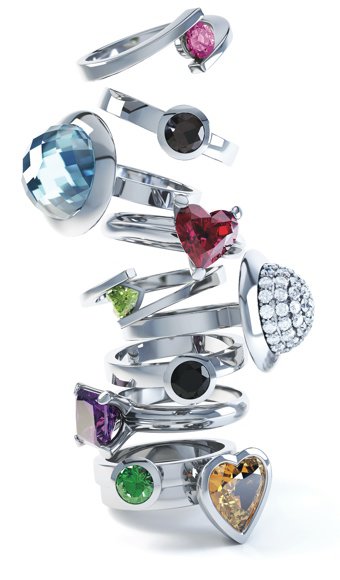 Originally born in the heart of the Gem State, USA, Jian London moved to the UK in 2008. In 2011 the brand won the Editor's Choice innovation award for Technical Excellence at International Jewellery London, the UK's top jewellery show.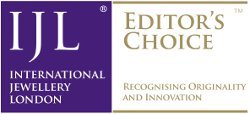 Jian London designs, manufactures and retails its own jewellery available in Silver, Gold and Platinum versions making fine Jewellery affordable for everyone. In addition Jian London currently retails exclusively online providing exceptional service and value, with most items positioned at roughly 50% of High Street prices for an equivalent item.
Unlimited Possibilities
We source gemstones from all around the world selecting only those that meet our strict requirements to include in our collections. Our designs combine these in creative ways for people to choose their own personal look and style whatever the occasion.
Our Commitment
Jian London delivers many many thousands of orders each year and is committed to providing each customer with the highest standard of product and customer service. All of our products come with a one year guarantee plus a 30 days returns policy.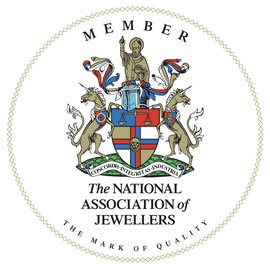 We are a member of the National Association of Jewellers, designed to provide consumers confidence to purchase from it's members through a Code of Practice setting the highest standards of professionalism, honesty and ethical business practices.
Connect with us
Customer Support
UNITED KINGDOM

UNITED STATES

GERMANY

Telephone: +442032878088

Email: sales@jianlondon.co.uk

Return Address:
Jian London Customer Services,
3 Copperhouse Court, Milton Keynes
MK7 8NL, United Kingdom.

Telephone: +12086085222

Email: sales@jianlondon.com

Return Address:
UKP C/O ITS – Jian London,
3390 Rand Road STE C,
South Plainfield, NJ, 07080-1307, USA.

Telephone: +442032878088

Email: sales@jian.london

Return Address:
Ezi Returns - Jian London,
Industriestraße 30, Kirchgellersen,
21394, Deutschland.

FRANCE

ITALY

SPAIN

Telephone: +442032878088

Email: sales@jian.london

Return Address:
Ezi Returns - Jian London,
Avenue Jean Jaurès,
Bagneres De Luchon, 31110, France.

Telephone: +442032878088

Email: sales@jian.london

Return Address:
IFS - Ezi Returns - Jian London,
Via Vanoni, 5, Paderno Dugnano,
Milano, 20037, Italy.

Telephone: +442032878088

Email: sales@jian.london

Return Address:
IMX - Jian London,
Calle Diamante 19, P.I. La Ermita,
Marbella, Malaga, 29603, Spain.
UK Delivery Information
| Delivery Type | Order Before | Received by you ... | Cost £ |
| --- | --- | --- | --- |
| UK Next Day | 3pm | End of Next Working Day* | FREE |
| UK Next Day 1pm | 3pm | Next Working Day By 1pm* | £1.95 |
| UK Saturday delivery 1pm | Friday 3pm | Saturday by 1pm | £4.95 |
Whichever shipping method you choose they are tracked and require a signature. If you cannot be there then you can choose an alternative address or your work address if your credit or debit card company approves this.
* (Mon - Fri excl. Bank Holidays)
Click here to check your ORDER STATUS or call +44 (0) 20 3287 8088
Worldwide Delivery Information
| Delivery Type | Order Before | Received by you ... | Cost £ |
| --- | --- | --- | --- |
| Global Mail to most countries | 3pm | 5-10 working days | £2.15 |
| Europe Economy Express | 3pm | 3 working days | From £6.75 |
| Europe Next Day | 3pm | 1 working day* | From £7.95 |
| Europe Next Day by 12pm | 3pm | 1 working day* | From £12.95 |
| USA Express Delivery | 3pm | 1-3 working days* | From £17.95 |
| Canada & Mexico Express Delivery | 3pm | 2-3 working days* | From £19.95 |
| Asia & Middle East Express Delivery | 3pm | 2-4 working days* | From £18.95 |
| Worldwide Express to other regions | 3pm | 2-6 working days* | From £22.95 |
* (Mon - Fri excl. Bank Holidays)
Click here to check your ORDER STATUS or call +44 (0) 20 3287 8088
Free Exchange of your Jewellery
We know receiving a gift or sizing can sometimes be an issue so for all returnable items we offer a free exchange within 30 days or for gift items within 45 days and further extended during the Holiday period as described below. If you would like to exchange your purchase, please contact us at sales@jianlondon.com, alternatively you can call on +44 (0) 20 3287 8088. Exchange items can only be dispatched after the returned goods have been received.
Holiday Returns
Between 1st November and 31st December the returns period for returnable items is extended up to 31st January the following year provided they are still in their original condition and the security tag has not been removed.
30-Day Returns
If for any reason you are not satisfied, you may return an item in its original condition within 30 days of the date of shipment for a refund or exchange. Please see the list below for details of the returns procedure and if you have questions about our return procedure or policy, then please do not hesitate to contact us. To return your purchase to Jian London please email or call 020 3287 8088 to advise of returning your order.
Please use the unique Returns label on the Packing list that comes with your order when returning any item. You are responsible for returning the product(s) safely to us and the cost of the return postage.
Our packaging is considered to be apart of the product so please return all items as received in their original packaging to avoid any deductions from your refund.
Returns or exchanges must be in their original condition and items showing signs of wear, altered, resized or damaged cannot be accepted for return. However, at our discretion, we can deduct a handling fee to faciliate an exchange to something else or store credit.
Pierced jewellery is none returnable if it has been worn or the security tag has been removed.
Bespoke, made to order, altered or made to measure jewellery is generally none returnable. However, at our discretion, we can deduct a handling fee to facilitate an exchange to something else or issue store credit.
Items returned within the valid return periods and where the security tag is intact and the item is in its original condition we aim to process a full refund or exchange within 24hrs.
Items returned where the security tag has been removed will be inspected under the microscope by our workshop. If the item is still in its original condition then store credit will be issued. Items that have been used and are not in their original condition will generally not be refunded. However, at our discretion, we can deduct a handling fee to facilitate an exchange to something else or store credit.
Returns that are rejected can incur a returns handling and postage fee.
Items returned due to Refusal to Sign, Collect or rearrange Delivery or other Non-Delivery issue will incur a £10 Non-Delivery fee. International orders may incur additional customs costs or fees before being refunded.



CANCELLATIONS


Orders can usually be cancelled within 60 minutes after placing your order. However orders that are already in the Packing status then its too late to cancel and you will have to return the items back to us.
Our Packaging
Every Jian London order arrives in our beautiful signature packaging, designed exclusively by us. The iconic diamond symbol is an indication of the luxury piece that awaits inside plus it makes a wonderful way to store your piece. If you'd like to add a personal message to a gift order, please contact us and we'll include it in the package on your behalf.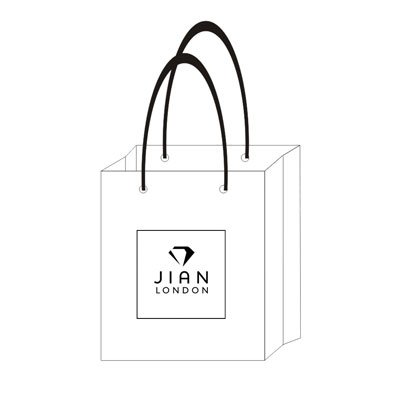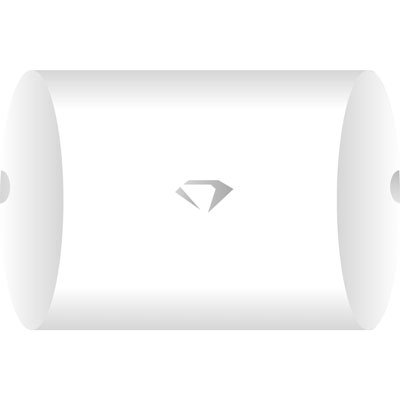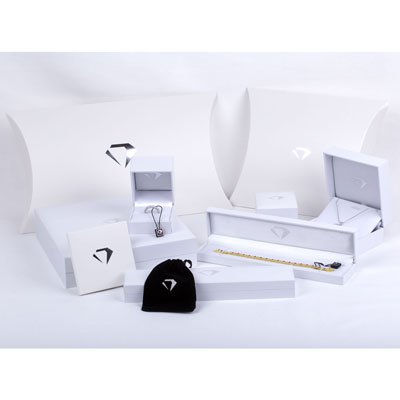 Our Gift Wrapping service
Choose from three luxury gift wrap paper.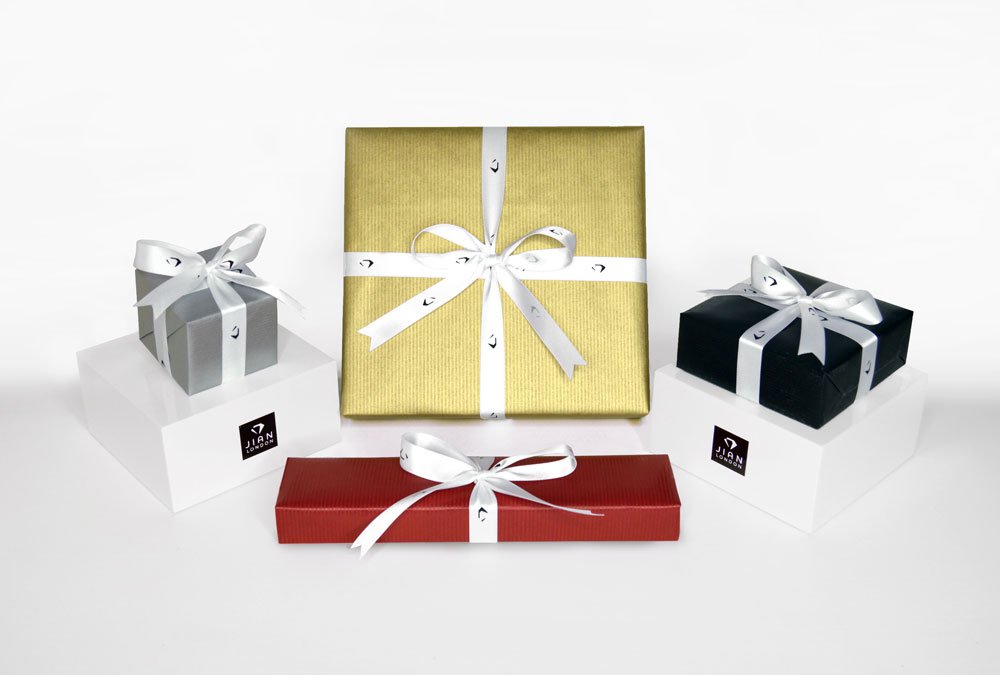 Jewellery Care
All jewellery should be treated with a lot of tender loving care to keep it looking at its best. All precious metals can suffer scratches and dents when it comes into contact with harder elements.
It is recommended that rings aren't worn when carrying out heavy chores, sports and other activities where it might come in to contact with hard surfaces or be exposed to chemicals. As with most types of jewellery contact with chlorinated water can attack the surface and result in damage to its appearance over time.
To maintain the finish and shine, it's best to remove your jewellery when you go swimming and avoid contact with everyday items such as perfume, hair-spray and cleaning products.
Many of our jewellery items are enhanced with Rhodium plating, giving a highly reflective white surface. It is perfectly normal that over time, this surface may lose some brightness, especially on rings that are worn all the time every day. To bring back that brand new look a Rhodium replating and polishing service is available.
Sapphire Dome
Sapphire is the 2nd hardest gemstone after diamond and is resistant to most small everyday scratches and bumps. However it is recommended to avoid wearing other diamond rings in a position where they can come into contact with the sapphire dome.
Liquid filled Sapphire Dome
Exposure to direct sunlight will quickly heat the dome and liquid inside due to it's shape and optical nature and it's best to avoid wearing it while sunbathing or leaving it directly exposed to sunlight. It is normal for the tiny bubble to shrink or grow slightly due to differences in temperature.
BRACELET & NECKLACE CLASPS
The clasp tongue is a doubled over base metal spring tongue for durability and reliability. When inserted, to join the ends together, it will "click" into place. The safety clasp(s) can then be set. New clasps can sometimes be a little stiff. Get used to the feel of the clasp by trying it a few times.
Clasp Release
First release the safety clasps if they are set and then:
On the Round cut style, depress the last gemstone next to the tongue and gently pull apart.
On the Princess cut style, depress the square button next to the tongue and gently pull apart.
Clasp adjustment
Overtime clasps can become slightly loose however they can easily be adjusted to either tighten or loosen them. To make the clasp TIGHTER, very gently lift the top side of the tongue, using the release button or mechanism. This will open the gap in the spring a little making it tighter to insert. To make the clasp LOOSER, squeeze the release button or mechanism, and the bottom of the tongue together. This will close the gap in the spring, making it a little looser and easier to insert.
Bespoke Service
We are delighted to offer a bespoke jewellery service and are able to customise any of our existing jewellery or create whatever you may be looking for… from an engagement ring, to earrings and pendants, as well as more elaborate pieces.
If you are considering having a piece made please talk to us about it by either calling our design team at 020 3287 8088 or send an email to: design@jianlondon.com
Jian - Your Style Your Way
Custom designed 14K Gold and Diamond bezel
Added to a Stardust 20mm Sapphire Dome
With choice of Mozambique Garnets.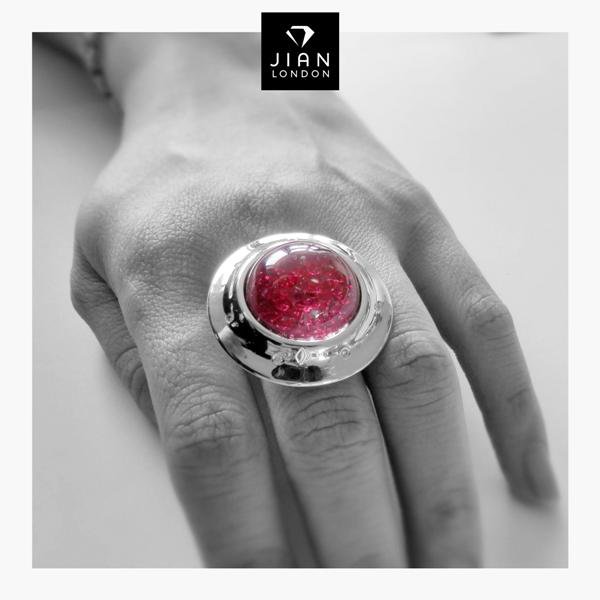 Jewellery Repair Service
Bring back your jewellery's sparkle and shine. Over time most items will receive scratches, bumps or get broken. If you have an item of jewellery that needs cleaned, polished, re-plated or repaired then just pop the item into the pouch and box provided, along with a note of what is required, and send it to us in a small padded envelope using the label provided via 1st class recorded delivery or Special Delivery for more expensive items.
Jewellery Cleaning

Un-plated gold and silver jewellery

Cleaning, Buffing and Polishing

from £15

White gold, Platinum and Rhodium plated jewellery

Re-Plating

from £20

Pearl Restringing

With or without Knots, silk or stretchy, resizing

Pearl Bracelets

from £20

Pearl Necklaces

from £22

Pearl matching including restringing

from £25

Knotting helps prevent pearls rubbing together and from coming loose alltogether.

Repairs

Rings, earrings, pendants

from £20

Bracelets, Necklaces and Chains

from £22

Resizing Rings, Bracelets, Necklaces and Chains

from £25

Gemstone matching stone replacement

from £30

Access our vast range of natural and created gemstones to match, replace, renew, refurbish or enhance an older or broken item of jewellery.

Engraving

Mark your special occasion with a personalised message

from £15

Use these prices to guide you through our repair services. Basic jobs will only require the one service however some jobs might require a combination of services but we will always contact you to confirm before commencing any work. Prices include 20% VAT but exclude delivery.
Secure Payments
At Jian London we have taken the decision that no payment information will be stored or processed on our website. This means we only retain information regarding your order and do not hold any details regarding your credit or debit cards safeguarding your privacy and security.
During checkout your order details will be passed securely to our preferred processing partners Amazon and Paypal where all of the major Credit and Debit Cards are accepted.

Ring Sizes

Circumference (mm)
Diameter (mm)
EU
DE
UK & Australia
US & Canada
China
SG/JP
HK
Switzerland
44.2
14.1
F½
3
6
4
6
4
44.8
14.3
G
5
5¼
45.5
14.5
G½
3½
7
7.5
46.1
14.7
H
6
6½
46.8
14.9
H½
4
8
7
9
47.4
15.1
I
9
7¾
48
15.3
I½
4½
8
10
48.7
15.5
J
9
49.3
15.7
J½
5
10
9
11
50
15.9
K
10
50.6
16.1
K½
5½
11
10
12
51.2
16.3
L
11¾
51.9
16.5
L½
6
12
11
13
12¾
52.5
16.7
M
13
12
53.1
16.9
M½
6½
13
14.5
14
53.8
17.1
N
14
54.4
17.3
N½
7
14
16
15¼
55.1
17.5
O
15
55.7
17.7
O½
7½
15
17
16½
56.3
17.9
P
16
57
18.1
P½
8
17
16
17¾
57.6
18.3
Q
58.3
18.5
Q½
8½
18
17
19
58.9
18.8
R
19
59.5
19
R½
9
19
18
20.5
60.2
19.2
S
20
20¼
60.8
19.4
S½
9½
19
22
61.4
19.6
T
21
21½
62.1
19.8
T½
10
20
23
62.7
20
U
22
21
63.4
20.2
U½
10½
22
24
22¾
64
20.4
V
23
64.6
20.6
V½
11
23
25
65.3
20.8
W
24
25
65.9
21
W½
11½
25
24
26
66.6
21.2
X
67.2
21.4
X½
12
26
25
27.75
27½
67.8
21.6
Y
Privacy Policy
This privacy policy sets out how Jian London uses and protects any information that you give Jian London when you use this website. Jian London is committed to ensuring that your privacy is protected. Should we ask you to provide certain information by which you can be identified when using this website, then you can be assured that it will only be used in accordance with this privacy statement. Jian London may change this policy from time to time by updating this page. You should check this page from time to time to ensure that you are happy with any changes.
What we collect
We may collect the following information:
name
contact information including email address
demographic information such as postcode, preferences and interests
other information relevant to customer surveys and/or offers
For the exhaustive list of cookies we collect see the Cookie Section.
What we do with the information we gather
We use your personal information to provide and improve our services including:
Handling your orders and payments, Financial record keeping.
Prevent or detect fraud, to understand our performance
Improve our products and services
Provide recommended features, products, promotions or special offers, or other information which we think you may find interesting using the email address which you have provided.
From time to time, we may also use your information to contact you to provide customer services, product information, or market research purposes. We may contact you by email, phone, fax or mail and to help provide a more personal experience on our websites.
Security
We are committed to ensuring that your information is secure. In order to prevent unauthorised access or disclosure, we have put in place suitable physical, electronic and managerial procedures to safeguard and secure the information we collect online.
How we use cookies
A cookie is a small file which asks permission to be placed on your computer's hard drive. Once you agree, the file is added and the cookie helps analyse web traffic or lets you know when you visit a particular site. Cookies allow web applications to respond to you as an individual. The web application can tailor its operations to your needs, likes and dislikes by gathering and remembering information about your preferences.
We use traffic log cookies to identify which pages are being used. This helps us analyse data about web page traffic and improve our website in order to tailor it to customer needs. We only use this information for statistical analysis purposes and then the data is removed from the system.
Overall, cookies help us provide you with a better website, by enabling us to monitor which pages you find useful and which you do not. A cookie in no way gives us access to your computer or any information about you, other than the data you choose to share with us. You can choose to accept or decline cookies. Most web browsers automatically accept cookies, but you can usually modify your browser setting to decline cookies if you prefer. This may prevent you from taking full advantage of the website.
Links to other websites
Our website may contain links to other websites of interest. However, once you have used these links to leave our site, you should note that we do not have any control over that other website. Therefore, we cannot be responsible for the protection and privacy of any information which you provide whilst visiting such sites and such sites are not governed by this privacy statement. You should exercise caution and look at the privacy statement applicable to the website in question.
Controlling your personal information
We use your personal information to provide and improve our services, including handling your orders and payments, prevent or detect fraud, to understand our performance, fix errors, improve our website, recommend features, products or promotions for you and to help provide a more personal experience. You may choose to restrict the collection or use of your personal information in the following ways:
whenever you are asked to fill in a form on the website, look for the box that you can click to indicate that you do not want the information to be used by anybody for direct marketing purposes
if you have previously agreed to us using your personal information for direct marketing purposes, you may change your mind at any time by writing to or emailing us at sales@jianlondon.com or clicking the unsubscribe link at the bottom of the page.
We will not sell, distribute or lease your personal information to third parties unless we have your permission or are required by law to do so. We may use your personal information to send you promotional information about third parties which we think you may find interesting if you tell us that you wish this to happen.
You may request details of personal information which we hold about you. If you would like a copy of the information held on you please send an email to: sales@jianlondon.com.
If you believe that any information we are holding on you is incorrect or incomplete, please write to or email us as soon as possible, at the above address. We will promptly correct any information found to be incorrect.
Cookies
The table below lists the cookies we may collect and what information they store.
| COOKIE name | COOKIE Description |
| --- | --- |
| CART | The association with your shopping cart. |
| CATEGORY_INFO | Stores the category info on the page, that allows to display pages more quickly. |
| COMPARE | The items that you have in the Compare Products list. |
| CURRENCY | Your preferred currency |
| CUSTOMER | An encrypted version of your customer id with the store. |
| CUSTOMER_AUTH | An indicator if you are currently logged into the store. |
| CUSTOMER_INFO | An encrypted version of the customer group you belong to. |
| CUSTOMER_SEGMENT_IDS | Stores the Customer Segment ID |
| EXTERNAL_NO_CACHE | A flag, which indicates whether caching is disabled or not. |
| FRONTEND | You sesssion ID on the server. |
| GUEST-VIEW | Allows guests to edit their orders. |
| LAST_CATEGORY | The last category you visited. |
| LAST_PRODUCT | The most recent product you have viewed. |
| NEWMESSAGE | Indicates whether a new message has been received. |
| NO_CACHE | Indicates whether it is allowed to use cache. |
| PERSISTENT_SHOPPING_CART | A link to information about your cart and viewing history if you have asked the site. |
| POLL | The ID of any polls you have recently voted in. |
| POLLN | Information on what polls you have voted on. |
| RECENTLYCOMPARED | The items that you have recently compared. |
| STF | Information on products you have emailed to friends. |
| STORE | The store view or language you have selected. |
| USER_ALLOWED_SAVE_COOKIE | Indicates whether a customer allowed to use cookies. |
| VIEWED_PRODUCT_IDS | The products that you have recently viewed. |
| WISHLIST | An encrypted list of products added to your Wishlist. |
| WISHLIST_CNT | The number of items in your Wishlist. |